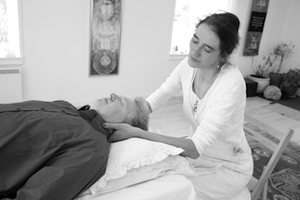 The Note from Heaven workshop with Githa Ben-David

Vocal Sound scanning can effect any illness as it strengthen the immune system, brings about detoxification and works with Spirit, who can heal whatever you are open and ready for.
Githa cannot promise anything as she opens herself and lets whatever wants to happen through the sound, happen. Sometimes she has focused on a certain illness which did not disappear - but then something else, that she did not focus on, was healed.

Githa Ben-David has experienced instant healings of serious illnesses and she feels deep gratitude when this happens. In big groups the energy often rises, and healing after healing will happen. But it is up to Spirit if it happens, and if the effect of the healing will last. Examples of illnesses which have been cured through Githa's sound healing are: stress, tinnitus, deafness, pains in joints, knee problems, cancer, limpness, phantom pain...

Click on the workshop name below for more info....