Bio Dynamic Kundalini Healing weekend level 1
Agenda:
vrijdag 19 oktober 2018 20:00 uur - zondag 21 oktober 2018 16:00 uur Aanmelden
Flaviu Pop € 350.00 Inclusief volpension
Workshop is given in English.
Bio Dynamic Kundalini Healing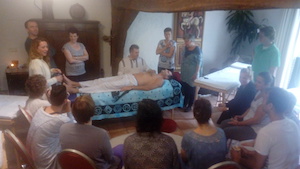 During this workshop you can experience deep physical, emotional, mental and energetic transformation. As a main tool we use the sexual energy, also called Kundalini, Chi, Prana, Umbros, the vital energy or inner power, in different cultures and perspectives.

We mix energy work with Tantric de-armouring to balance the energy flow and to create, if needed, a very deep and powerful emotional release.

Each of us has inside of us the equivalent of a small nuclear power plant. Often we are not even aware that it exists and, unfortunately, we use it very little or not at all, because we don't know how.
You will learn how to identify and use this energy not only in your transformation processes, but also in your everyday life.


This method can:
• Unleash the stagnant or blocked energy flow in your body
• Help you find and heal deep emotional trauma
• Improve your life perception and your sexuality
• Bring the relationship with your partner to a new unimaginable level


How:
• By fully connecting yourself to your own physical pain, emotional traumas and body energy
• Through personal experimentation of emotional release
• By experimenting the healing force of the Kundalini energy
• By breaking up the armours which protected us a in the past, but by now blocks the natural flow of energy in the body


During this workshop you can find the answers to the following questions:
• Which are the resemblance and difference of the male and female sexual organs
• How orgasm is produced in our body
• Which are the orgasm types for men and women
• What is the Energetic Orgasm
• What are the armours and blockages, how they are manifested in our body and how we can find and dissolve them.


This workshop is for you if:
• you are looking for intense and profound experiences
• you want to discover more passion in making Love
• you want to communicate on a different and authentic level with your partner
• you want to discover your polarity (masculin/feminine) and find out how it can influence your life.
• You want to dissolve blockages and fears so you can enjoy your life fully.


This workshop can be useful for:
• Therapists, doctors, sex therapists, coaching specialists, healers
• Single persons or couples
• Straight persons, gay, bisexual and lesbians
• Practically all those who want to bring their own sexual life towards a higher level.

This workshop offers the chance to learn quickly, through experimenting, how to live, transform and explore your sexuality and live your life at maximum potential.


Private sessions
Private sessions by Flaviu Pop are being offered on: Friday and monday till wednesday before and after the weekend workshop.
Costs of private sessions:
- 90-120 min: €150.-

There is a discount of €50,- on the private sessions for those who wish to experience such a session and who have registered and paid fully for the 2-day weekend workshop.

Other healing & coaching sessions by Flaviu Pop:
- Bio-dynamic Kundalini Healing : €150,- (120-150 min)
- Relationship, Sexual or Personal Development: €150,- (90-120 min)

Don't hesitate to ask any questions in case you have any.
You can sign up for a session through the secretary of Helios Centrum Heerde. Phone 0578-695757. From outside Holland: 0031-578-695757. E-mail: info@helioscentrum.nl


About registration
If you have a Dutch bank account you can sign ip for this workshop by clicking 'Aanmelden'. You will be requested to pay € 50,- through iDeal and receive a confirmation in the Dutch language.

If you come from abroad and do not have a Dutch bank account, please sign up by e-mail: info@helioscentrum.nl We will then register you manually and send you payment info and confirmation in English.


Gegeven door:
Flaviu Pop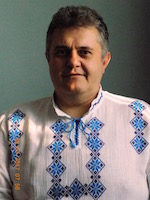 My name is Flaviu Pop. I am a trainer and therapist with national and international practice. In the workshops and therapies that I give, I combine a variety of techniques with the intention to show the people that I work with a new dynamic of life and of human relationships.
In 2012 I founded "Albini Center" that became, in time, a multidisciplinary center for complementary and alternative therapies in Cluj Napoca, Romania. I have developed an original therapeutic system called Bio-Dymamic Healing, which aimes to promote a deeper experience of awareness through unlocking, liberation and development on all levels: physical, mental, emotional, energetic and spiritual.
My approach is unique, a mix of traditional Asian schools and use of modern discoveries in the western world: Europe, North and South America.
From the techniques and schools I have studied and by which I was inspired, I can remember: Reiki, Tantra, Tao, Massage, Reflexology, Chiropractice, New German Medicine, Recall Healing, Personal development, relational and sexual counseling, Chi Nei Tsang, Su Jok, etc ............
Through the workshops, retreats and therapies that I organise, I want to inspire the participants to become more aware. I encourage them to transform their blockages and fears.
My quest for new experiences and new learnings keep my therapeutic techniques in a state of permanent dynamic development.