Bio Dynamic Kundalini healing weekend level 2
Agenda:
vrijdag 23 februari 2018 10:00 uur - zondag 25 februari 2018 16:00 uur Aanmelden
Flaviu Pop € 495.00 Inclusief volpension
Workshop is given in English.
3DE: De-Armouring, De-Blocking, De-Conditioning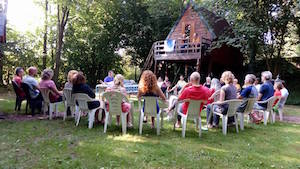 For a happy and fullfiling existence, we need to find balance in all aspects of our life and for that we need to understand why things happen to us or why we make certain choices. To be able to fully enjoy life, an important step, maybe even the first step, is to heal the past.

A lot of people ask me why! The past is gone.... we cannot change anything! And my answer is:"Yes, you are right... we can not change the past, but we can release the memory that the past has left inside of us and that is not always a happy one." Releasing the memories from the past, which are trapped in our body in the form of armours , blockages or fears, can help us to better understand the present and also to look forward to the future.



During this workshop you: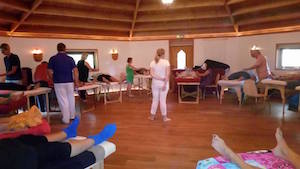 • can understand and heal deep emotional trauma
• can understand if an armour, blockage or conditioning is your own or an inheritage from your family clan
• can unblock the energy flow in your body
• will receive a set of important practical tools that you can apply on yourself, your friends, family or clients.

This workshop has it's origin in a couple of different techniques which I have learned and practiced during my years of therapy work. By combining Tantric De-armouring, Full Body Energetic Orgasm, Massage techniques, Reflex therapy, Chi Nei Tsang, Recall Healing, Reiki together with emotional release techniques, a much deeper experience was born.



How does it work?
• By understanding the mechanisms that store negative emotions in our body
• By recognising your armours, fears and conditionings and why we behave in a certain way
• By discovering the cycles of life
• By understanding the connection between the emotional and physical body and how this connection can be improved
• By fully connecting yourself to your own physical pain, emotional traumas and body energy through personal experimentation of emotional release



This workshop is for you if:
• you are looking to change your life
• you want to discover how and why all those things are happening to you
• you want to dissolve blockages and confront fears so you can fully enjoy your life
• you already joined part one or have other experiences with de-armouring before


This workshop can be useful for:
• therapists, doctors, coaching specialists, healers, or just regular people
• practically all those who want to bring their own life on a different level



Private sessions
Private sessions by Flaviu Pop are being offered on: Friday and monday till wednesday before and after the weekend workshop.
Costs of private sessions:
- 90-120 min: €150.-

There is a discount of €50,- on the private sessions for those who wish to experience such a session and who have registered and paid fully for the 2-day weekend workshop.

Other healing & coaching sessions by Flaviu Pop:
- Bio-dynamic Kundalini Healing : €150,- (120-150 min)
- Relationship, Sexual or Personal Development: €150,- (90-120 min)

Don't hesitate to ask any questions in case you have any.
You can sign up for a session through the secretary of Helios Centrum Heerde. Phone 0578-695757. From outside Holland: 0031-578-695757. E-mail: info@helioscentrum.nl


About registration
If you have a Dutch bank account you can sign ip for this workshop by clicking 'Aanmelden'. You will be requested to pay € 50,- through iDeal and receive a confirmation in the Dutch language.

If you come from abroad and do not have a Dutch bank account, please sign up by e-mail: info@helioscentrum.nl We will then register you manually and send you payment info and confirmation in English.


Gegeven door:
Flaviu Pop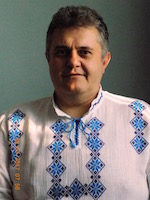 My name is Flaviu Pop. I am a trainer and therapist with national and international practice. In the workshops and therapies that I give, I combine a variety of techniques with the intention to show the people that I work with a new dynamic of life and of human relationships.
In 2012 I founded "Albini Center" that became, in time, a multidisciplinary center for complementary and alternative therapies in Cluj Napoca, Romania. I have developed an original therapeutic system called Bio-Dymamic Healing, which aimes to promote a deeper experience of awareness through unlocking, liberation and development on all levels: physical, mental, emotional, energetic and spiritual.
My approach is unique, a mix of traditional Asian schools and use of modern discoveries in the western world: Europe, North and South America.
From the techniques and schools I have studied and by which I was inspired, I can remember: Reiki, Tantra, Tao, Massage, Reflexology, Chiropractice, New German Medicine, Recall Healing, Personal development, relational and sexual counseling, Chi Nei Tsang, Su Jok, etc ............
Through the workshops, retreats and therapies that I organise, I want to inspire the participants to become more aware. I encourage them to transform their blockages and fears.
My quest for new experiences and new learnings keep my therapeutic techniques in a state of permanent dynamic development.