Rental info Helios workshop accommodation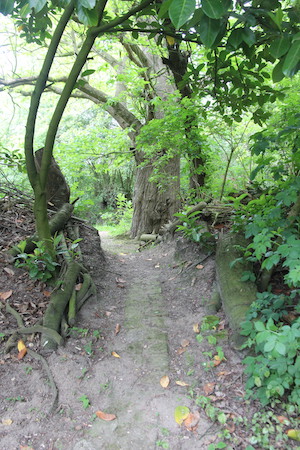 Minima and maxima

At Helios you always rent for a minimum of 18, maximum of 36 persons. These numbers include staff.

We only rent including overnight stays and full board. So not for a single evening, day etc.

The teacher works with his group in the Finnish kota. We also have a double dining room with a relaxation area where 36 people can be seated.

The meals are as much as possible organic and vegetarian at a high culinary level. Our cooks are true culinary artists.

NB Guests cannot bring pets to Helios unless they stay overnight in their own camper and the pet stays in the camper. One camper can get electricity from us.

Besides the per-person price you also pay the hall rental fee, scroll down for this.
Would you like more information or book? Mail info@helioscentrum.nl or call Arianne Groeneveld at Helios 0031 6 46 36 79 18.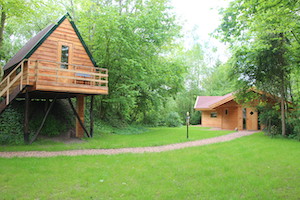 Character of our accommodation

Our accommodation, situated on a beautifully designed, natural site of 7700 m2, consists of 4 buildings, three of which have bedrooms. In addition, we have several fairytale and fantasy, tiny house type accommodation areas such as our 2 'tree houses', Woudlust, the mini-kota, the Elfjes-caravan and the 'Hansel and Gretel house'.

These cosy outdoor spaces are loved by our guests because it is an experience to sleep in them and they offer peace and privacy. Toilet and shower are always nearby.

Here you will find photos and descriptions of most of our sleeping areas.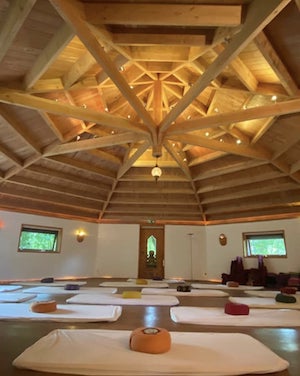 Super group space: the Finnish kota

Behind the big pond is our Finnish kota (110 m2), a hall that is the dream of every teacher: the perfect shape (octagonal = almost round), entirely made of natural materials (Douglas fir wood and light loam walls, oak floor), wonderfully evenly heated by wall heating, very good sound system, good wifi, omn top of that built on a spot with a powerful, warm energy. The room is well insulated. Several large, rough pieces of semi-precious stones form lighting elements along the walls.

We have yoga/massage mats, backjacks, meditation cushions and chairs. We also have many Reiki tables and 6 massage tables available.
The teacher can come a few hours before the start of the group to set up the room to his/her liking with all the available materials.

When the weather is nice, the activities can also take place in nature on our beautifully designed terrain of 7700 m2. It adds an extra dimension to an activity if you can do yoga outside or sit together in the open air!